You are here
The Rapid Development of The Automotive and Machine
Submitted by

admin

on Sat, 2020-02-29 02:38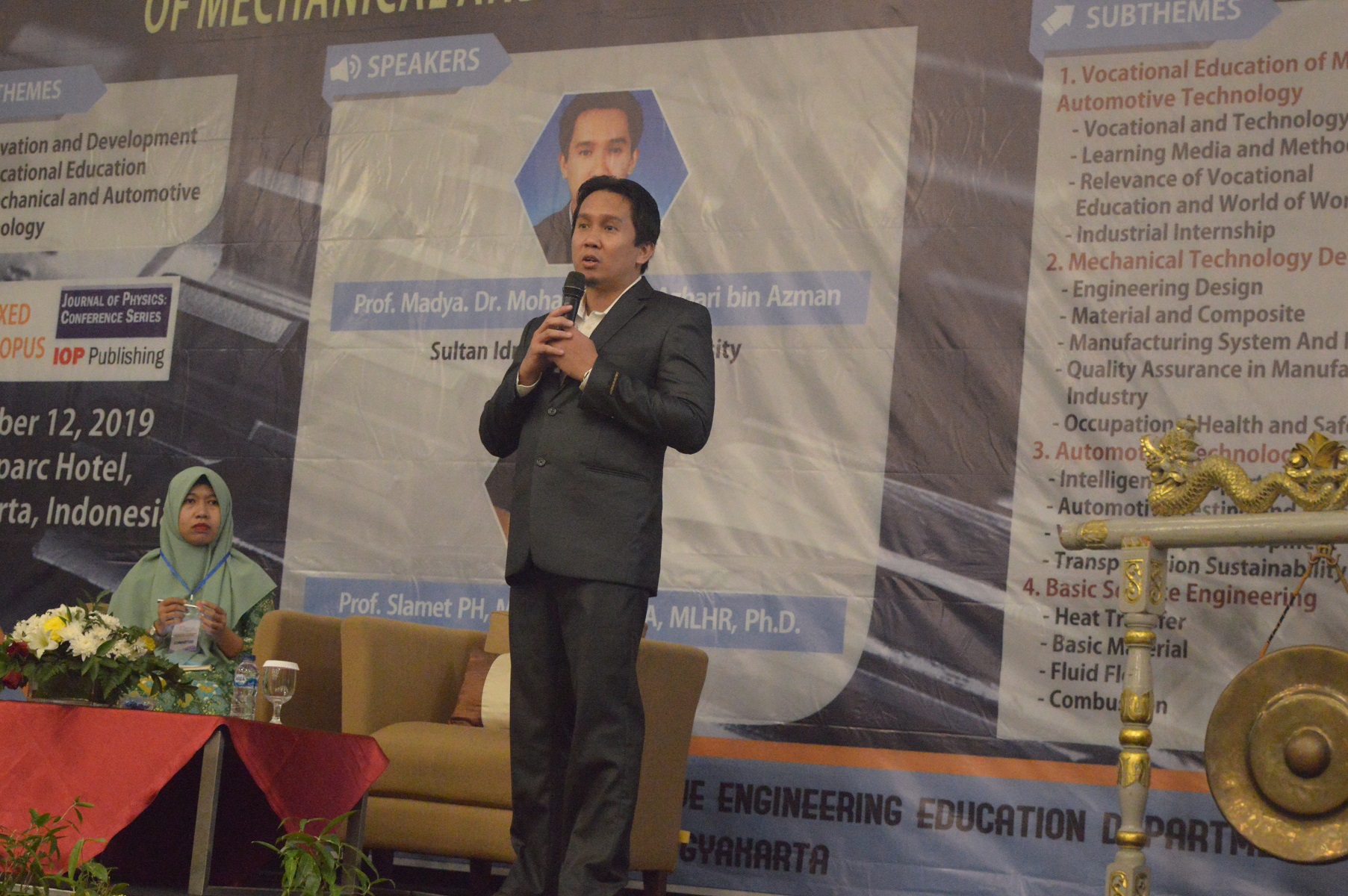 The field of automotive and machine is very closely related and develops together where many people today use applications that come from a combination of these two fields. Moreover, with the rapid development of transportation and mobility, the world of machine and automotive continues to evolve. This development must be followed by vocational education institutions which job is to prepare skilled workers in both fields starting from the curriculum to the application of technology used in the learning process. This conditions also require vocational education institutions to continue improving themselves and increase relevance to industry needs. Seeing this, Mechanical Engineering Education and Automotive Engineering Education Department, Faculty of Engineering, Yogyakarta State University held the 2nd International Conference on Vocational Education of Mechanical and Automotive Technology (ICoVEMAT) 2019 at Eastpac Hotel (12/10/2019) with the theme "Innovation and Development of Vocational Education on Mechanical and Automotive Technology. "
The main speaker is Assoc. Prof. Dr. Mohamed Nor Azhari Azman, from Faculty of Techinal and Vocational, UPSI, Malaysia and Prod. Slamet P.H., M.A., M.Ed., M.A., MLHR, Ph.D., from Faculty of Engineering, Yogyakarta State University.
In his presentation, Assoc. Prof. Dr. Mohamed Nor Azhari Azman shared about technology-based vocational learning processes. "The use of the internet as a learning medium which allow students to learn independently," he explained.
"Students can act as researchers, being analysts, so it's not just being information consumers. They analyzed information which relevant to learning and conducted searches that were appropriate to their real lives, "he explained.
According to him, the 21st century education emphasizes the process of forming thinking skills, collaboration, technology development and problem solving abilities.
Meanwhile, Prof. Slamet, Ph.D. in his presentation titled Development Vocational Education in 4.0 Era emphasized the importance of the role of vocational education in human development and the development of Indonesian society as a whole.
"Human development must be carried out in its entirety which includes the development of thinking power, spiritual power, physical power, and mastery of science, technology, art and sports," he continued.
Prof. Slamet continued that vocational education can play a maximum role in the economic development if its harmony with the world of work around it is pursued continuously, both in terms of quantity, quality, location, and time.
"Vocational education will also play a maximum role in economic development if it is able to integrate its programs with the existence of regulations, policies, planning, and government budgeting in the era of regional autonomy as it is today," he concluded. (Winarti)