You are here
Automatic Bottle Filling and Covering Machine With Android Based E-module for Vocational PLC Practice Learning
Submitted by

admin

on Sat, 2020-02-29 02:05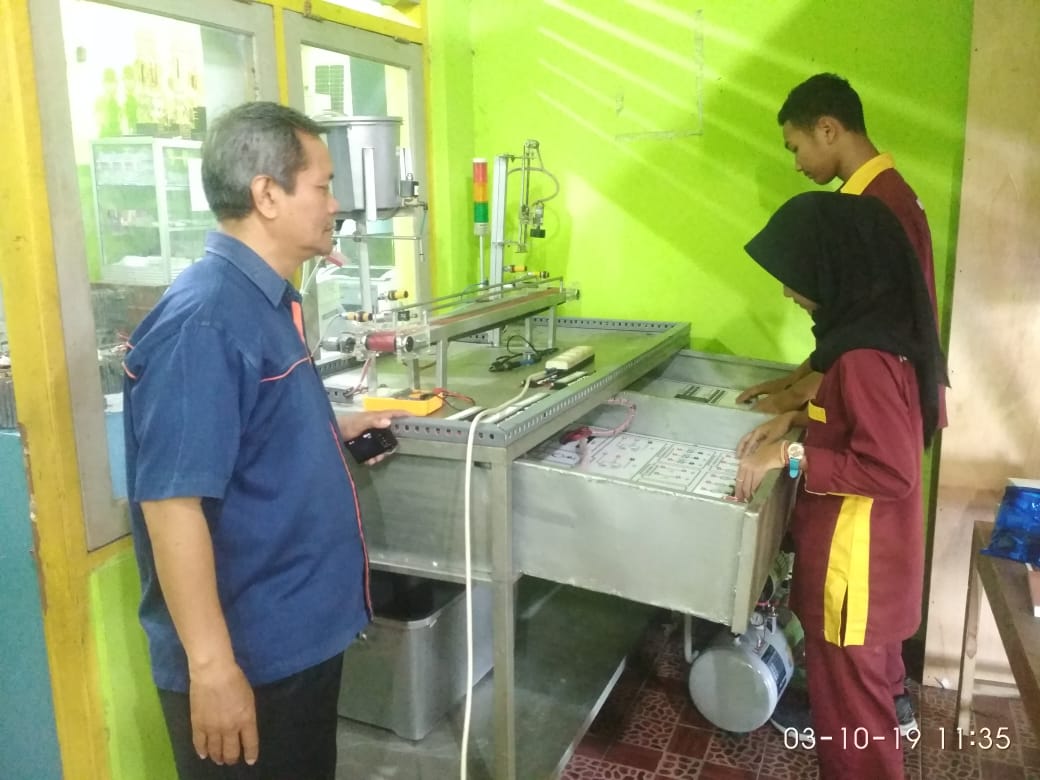 Two lecturers of the Faculty of Engineering Yogyakarta State University, Dr. Sukir, ( Electrical Engineering Education), and Nurkhamid, Ph.D., ( Informatics Engineering Education) conducted Community Service activities through the Community Partnership Program (PKM) at SMK Negeri 1 Pundong, Bantul through Automatic Bottle Filling and Covering Machine With Android Based E-module for PLC Practice Learning, funded by the Directorate of Research and Community Service (DRPM) Directorate General of Research and Technology Strengthening Ministry of Research and Technology in 2019. This activity also involved two students as a final thesis.
Sukir explained that this program aims to improve student competencies related to the use of PLC technology as the controller of various machines or equipment in the industry  which is so rapidly lately. "One example of this progress is the control of automatic bottle filling and covering machines using PLC controllers in the food and beverage industry," he said.
"Like it or not, the prospective workers, especially vocational graduates, are required to master PLC control capabilities in the industry. However, the lack of media for vocational learning causes the lack of optimal use of this competency among students as experienced in State Vocational High School 1 Pundong, particularly in the Electrical Power Engineering Competency Skill, "he continued.
Seeing this, Sukir and Nurkhamid tried to contribute by presenting PLC learning media with the support of Android-based E-modules so that they could also positively optimize the use of students' cellphones.
There are three technology products used in this activity, those are: automatic bottle filling and covering PLC controlled trainer kits machine, PLC Basic trainer kits, and android-based e-module of PLC practice learning.
"This technology product is used to fill water into the bottle and cover it automatically." he said.
This machine trainer kits product is a PLC controlled automatic bottle filling and covering consisting of 4 main parts, namely: conveyor units and belts that function as the transportation to move the bottles during the operation of the machine as a pass; bottle filling unit, as a means to fill water into bottles, with waterpumps, and solenoid valve faucets; Bottle capping unit to rotate and tighten bottle caps and panel components in the form of PLC OMRON CP1E N40 and other components, as a means of installing inputs, outputs and programs.
The technology product of a PLC-controlled automatic bottle filling and covering trainer kits machine and PLC Basic trainer kits with other equipments were submitted to SMK Negeri 1 Pundong on September 28, 2019. The trial implementation of the use of an automatic bottle filling and covering trainer kits machine, PLC Basic trainer kits, and android-based e-modules of PLC practice learning are conducted five times from 3 - 31 October 2019 in the subjects of  Electric Motor Installation. 
The State Vocational High School 1 Pundong through the principal, Sutapa, S.Pd. give high appreciation and fully support this activity and he believes that this media can improve the achievement of students' competencies. (Winarti)